VCD's on the Finger Touch System, as well as training equipment and clothing from the Philippines. In addition, the KBS Training Facility is now selling lots. Check out how you can own your own place in the Philippines! Click on the link below to find out more.
Lots in the Philippines for sale!!
You can order any of the items on this page or you can get more information about anything here by contacting us at KBS@kbs-system.com, and put Property, Training Gear or VCD's in the subject heading. You can also purchase with a check, but that will add several weeks to the delivery time.

Tuhon Bo Sayoc's Finger Touch System VCD's
These VCD's were authorized by Tuhon Bo Sayoc to be produced and sold exclusively by Guro Drape, his senior Finger Touch student.
***
Tuhon Bo Sayoc's Finger Touch System is now on VCD, and is available only here on the KBS System website! Volumes 1-3 are each appoximately 40 minutes long, and Volume 4 is about 30 minutes.
***

Volume 1 is Finger Touch Training, with Tuhon Bo showing the basic points and describing the methodology. Guro Drape also goes over the basic Finger Touch points.

Volume 2 is Finger Touch Applications, with Tuhon Bo using the Finger Touch System to drop and control several different subjects (including Guro Drape), in many different ways. Guro Drape also gets to demonstrate a bit on someone else!

Volume 3 is a Finger Touch Seminar. Tuhon Bo held a seminar in Imus, Cavite in the Philippines, and demonstrated a wide variety of techniques on many different subjects, including volunteers from the audience.

Volume 4 is a special added value. It is a training video from almost 20 years ago, showing Tuhon Bo demonstrating emptyhand techniques from the basic 12 angles of attack of the Sayoc Family System. It includes his famous Dukot (translated as "pickpocket") techniques, where he ties up the attacker's two hands and arms with one of his own. He also demonstrates some basic stick grappling.
This volume's quality is not the best, due to it's age, but the techniques are clearly visible, and it's definitely worth a look.
If purchased separately, Volumes 1, 2 and 3 are $35.00 USD each, and Volume 4 is $25.00. If purchased as a set, all four VCD's can be had for only $100.00 USD.

For a single VCD, the Shipping & Handling charge is $5.00. For two or more VCD's, the charge is $10.00.



Available immediately are the signature Sarimanok Aluminum Training Blades, designed by Guro Drape. There is also a carbon steel, sharpened version of the same blade available. These blades are made by Filipino craftsmen in Cebu, so the price for these blades is very low when compared with other training knives for sale in the West, even when the shipping costs are included!
Prices listed are for single items. There are bulk purchase discounts available. Contact us for more information.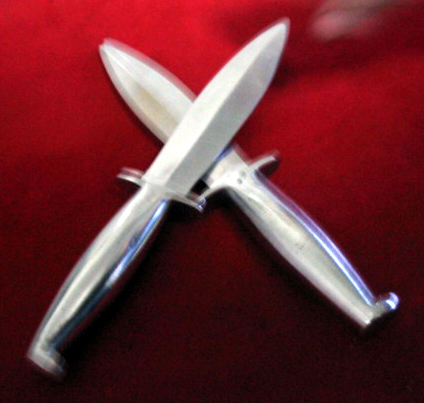 Sarimanok Aluminum Training Blades:
These blades are made in the same design as the real, carbon-steel blade. They are not just some square-cut block of aluminum with a cord wrapped around the handle. Instead, they are shaped like a real blade, with proper guards and handle. They look and feel like the real thing, while maintaining the safety required for a training blade. Price: $30.00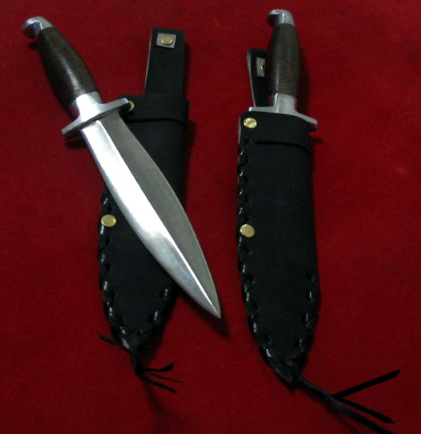 Sarimanok Carbon-Steel Daggers:
These daggers are the real thing. They are double-edged daggers with a blade length of about 6", and an overall length of more than 10". A sheath is included with each blade. Price: $55.00