This was our Finger Touch Training group in 2001. The photo was taken at Guro Steve's rented house in Cavite, Philippines.
Tuhon Bo and a few students, including Guro Steve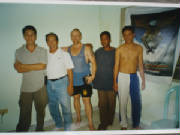 The following group of photos comprise a sequence of two men doing the palakaw. Palakaw is free-style close-range sparring. There is no pattern, and each practitioner must control his strikes to avoid injury, but otherwise, it is a fast, flowing exercise. It develops hand-eye coordination, hand reactions, defensive and offensive techniques, and is just plain fun to do.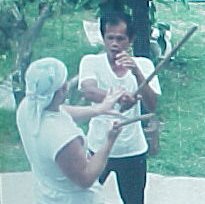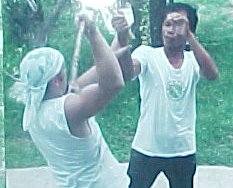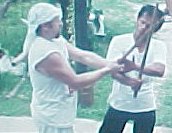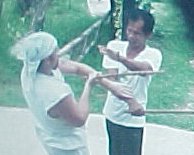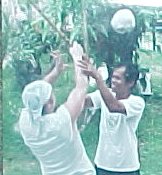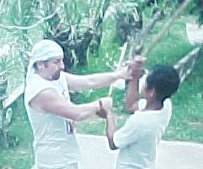 The group of photos below includes the Finger Touch Training group, Tuhon's family and a single shot of his wife, Christy, as well as a shot of Guro Steve.
Tuhon Bo, his family & students, w/Guro Steve
This is the nose of a sawfish. The base was carved to make a handle, and the weapon has actually been used. Blood stains can be seen on parts of the teeth. It belonged to the father of a close friend of GM Abner Pasa