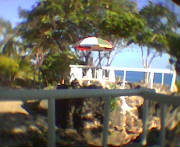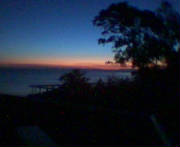 We are pleased to offer people interested in coming to the Philippines for training and fun the opportunity to do so. For people training in the Filipino Martial Arts, for scuba diving enthusiasts, or for people who just want to take a vacation in paradise, read further.
Guro Drape has a training facility in Cebu. If you are interested in training in the KBS System, this is by far the best opportunity you will ever have. We welcome everyone of any skill level, from complete beginners to instructors of other styles who just want to cross-train while enjoying a tropical vacation.
All you have to do is arrange your plane ticket. We will meet you at the airport and the only thing you will need to do after that is enjoy yourself! At the training facility, you will have a private cottage with attached bath. Everything is included in one low price (even alcohol if you are so inclined!). You can train as much or as little as you want, from 8 hours per day to none.
Guro Drape is also a PADI scuba diving instructor and we have arrangements with dive shops and resorts all over the Visayan Islands. We can get you great deals even travel agents can't touch! Not just discounts, but special friend rates for dives and room rentals, at world-class dive destinations like Moalboal, Mactan Island in Cebu, Alona Beach in Bohol, and on Camiguin Island.
If you are not interested in training in the KBS System, that's OK, too! We have connections with many other styles and instructors in Cebu and around the Philippines. We can arrange training in many systems, including the Sayoc Fighting System, San Miguel Eskrima, Balintawak, Doce Pares, Mig-Sune-Do, Tat Kun Tao, Aikido, Judo, Baguazhang and others. If you know the name of a style or an instructor here in the Philippines, but don't have contact information, chances are we can help connect you. The only limitations we have are your arrival date and how long you can stay.
For more specific information and prices, send us an E-mail



The training facility is in Camotes. These are several small islands off the coast of Cebu, about 2 hours away by boat. These islands are unspoiled, clean, and the people are charming and very friendly.
The camp is situated on 1 and 1/2 acres (about 7000 sq. meters) of oceanfront property. The view from our scenic overlook allows you to see the islands of Cebu, Leyte and Bohol in the distance. There are more than 100 coconut trees on the property, which keeps nearly the whole place in constant shade. We also have a beautiful, white sand beach just a 5 minute walk away- it's a big half moon nearly 100 meters deep at low tide! The Camotes Sea has some of the best fishing grounds around. We can get freshly caught tuna, blue marlin and squid any time you want it. We also raise our own pigs, and for those who have never tasted the Filipino specialty of lechon baboy (roasted pig), you owe it to yourself to try it!
The training area itself has a concrete floor with striking posts and hanging bags. It is roofed in case of rain, but the trees keep it shaded in any case. We have open ground for more environmental training, including rocky footing or soft dirt/mud.